The Inner City Shakespeare Ensemble (ICSE) brings at-risk students into the world of theatre, using Shakespeare's ageless language and eloquent dramatic insight into people and events. Founded in 2010, this innovative and unique program has brought together hundreds of diverse students from South Central Los Angeles: one of the nation's most economically challenged areas. Barriers of ethnicities are erased as our Ensemble explores the 17th Century world of the Bard, resulting in a life-changing impact that can be measured far beyond the scope of production and theatrical performance. Under Artistic Director, Dr. Melanie Andrews, with mentors and industry professionals, hundreds of talented young people joyfully discover their special talents and perform with style before audiences reaching more than 5000 people. In a community blighted by violence, through ICSE, lives are changed, gang ties are cut.  More than 85% of the student performers are in college, carrying their accomplishment far beyond the 4th wall of the theatre into a lasting impact for the future.
Programs begin with casting audition dates around LA, reaching out to disadvantaged students from Elementary Schools, High Schools and the youth acting community within the LAUSD school district. Once cast, rehearsals and theatrical education begins.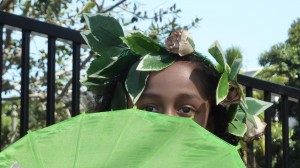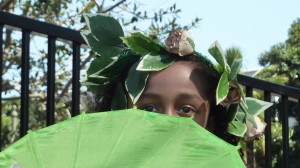 ---
Spring 2016
Othello 2016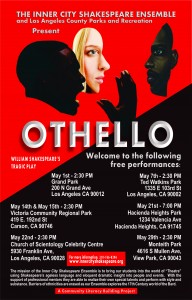 ---
 Spring 2015
| | |
| --- | --- |
| Taming of the Shrew 2015 | Twelfth Night 2015 |
| | |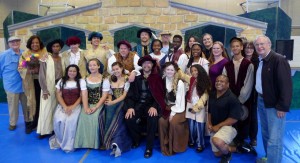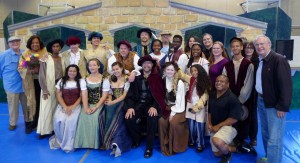 "Taming of the Shrew" in Culver City  Comedia Style / In The Round – for advanced students            
April 24th in the Rotunda Room in the Veteran's Memorial Building
May 2nd Grand Park Gala
May 10th   Monteith Park
May 17th   Celebrity Centre
May 24th   Ted Watkins Park
"Twelfth Night" at Hollywood High
April 24th SCHOOL PRODUCTION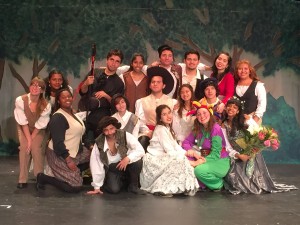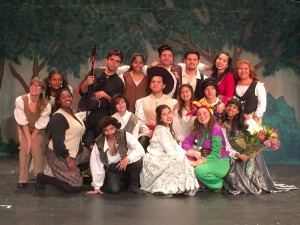 May 2nd Grand Park Gala
May 9th   Moneith Park
May 16   Victoria Park
May 23rd   Ted Watkins Park


Free Performances at  City & County Parks      May 2nd – 24th 2015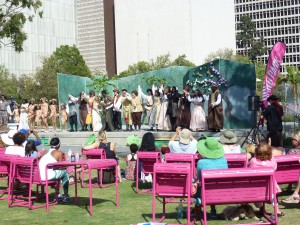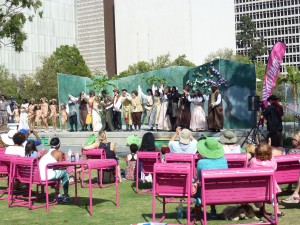 ---
Fall 2014
"8 by 10" ~ Eight One Act Plays directed by Ensemble Members November 14 and 15 at the Los Angeles Shakespeare Center. 7:30 PM. Free!
"Shakespeare for Kids"  ~  The Children's Shakespeare Festival at Two Elementary Schools Annalee Public School in Carson and 93rd Street Elementary School in Los Angeles. ~ SEE a documentary film about this program : "Shakespeare at Full S.T.E.A.M."

---
How You Can Help
This year we are expanding the number of productions which will be enable us to engage even more students from the entire city.  We are seeking financial contributions as well as volunteers and mentors for our programs.  By supporting ICSE you can sustain this program to change young lives and breathe renewed life into Shakespeare's legacy.
Inner City Shakespeare Ensemble
Productions
Over the past four years, The Inner City Shakespeare Ensemble has engaged students in the appreciation of the wit and wisdom of "The Bard", enriching their lives  with productions at George Washington Prep High School  of
Romeo and Juliet
and
A Midsummer Night's Dream
.  In 2013 gifted students from George Washington Prep High School & Los Angeles High School presented
Twelfth Night
,   Our 2013 season culminated in a joint production with both schools  at the FigAt7th Festival on July 27th, sponsored by Arts Brookfield. In the Spring of 2014, in celebration of William Shakespeare's 450th birthday, The Inner City Shakespeare Ensemble in partnership with, LA County Parks and Recreation and the LAUSD presented a production of
A Midsummer Night's Dream
under the direction of Artistic Director Dr. Melanie Andrews. Our Shakespeare Family birthday celebration included free performances at Ladera, Monteith, Athens, Grand Parks as well as wonderful participation in a few BritWeek Events!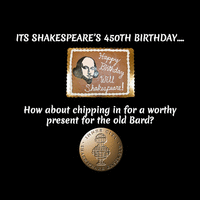 ---
Inner City Shakespeare Ensemble featured on County of Los Angeles Supervisor Mark Ridley-Thomas' website: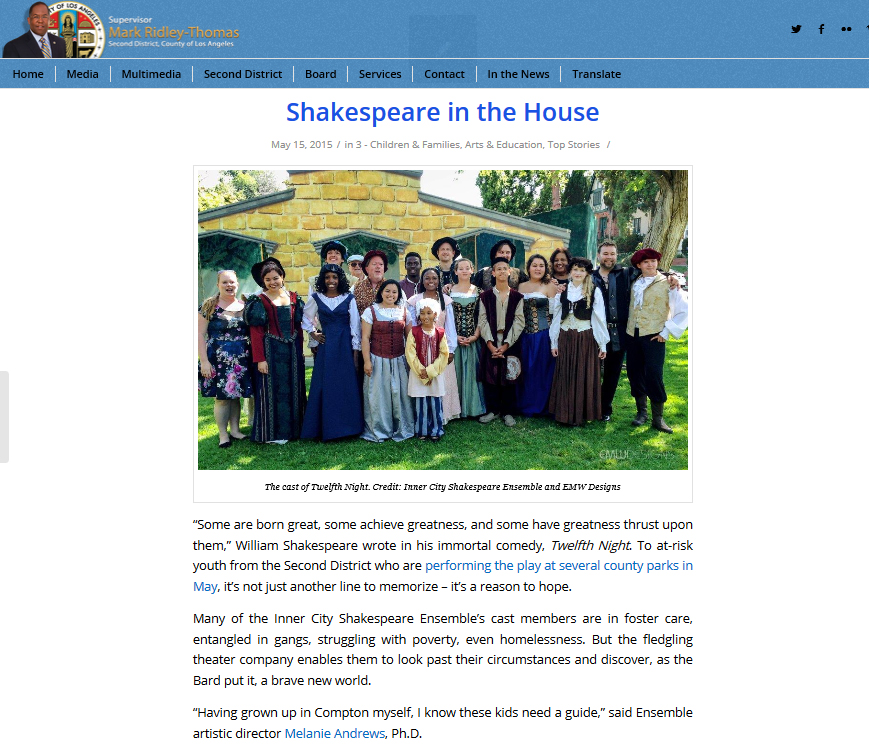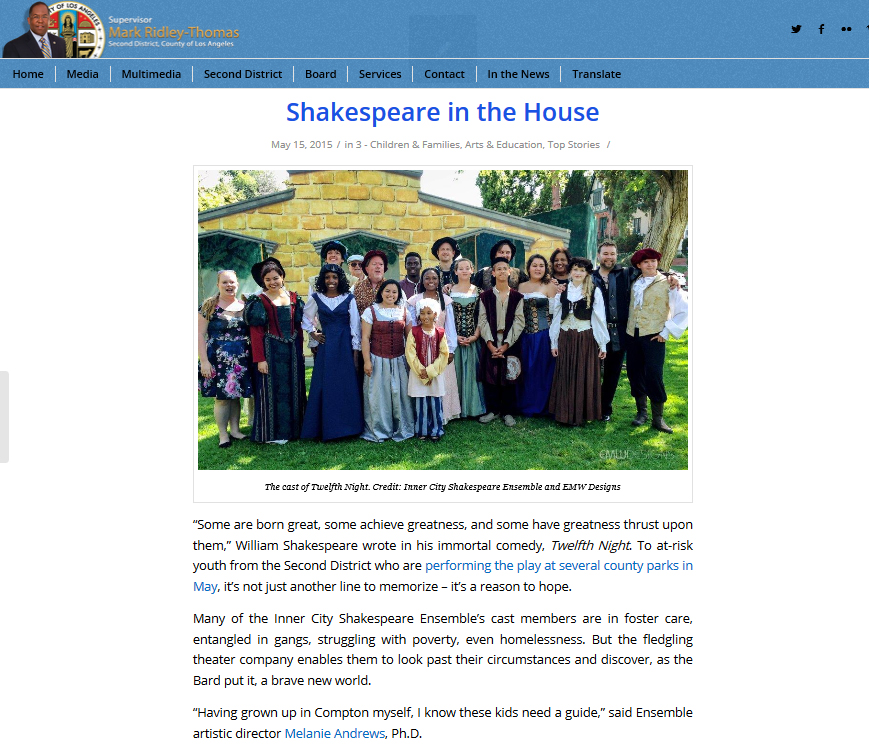 READ MORE AT http://ridley-thomas.lacounty.gov/index.php/inner-city-shakespeare/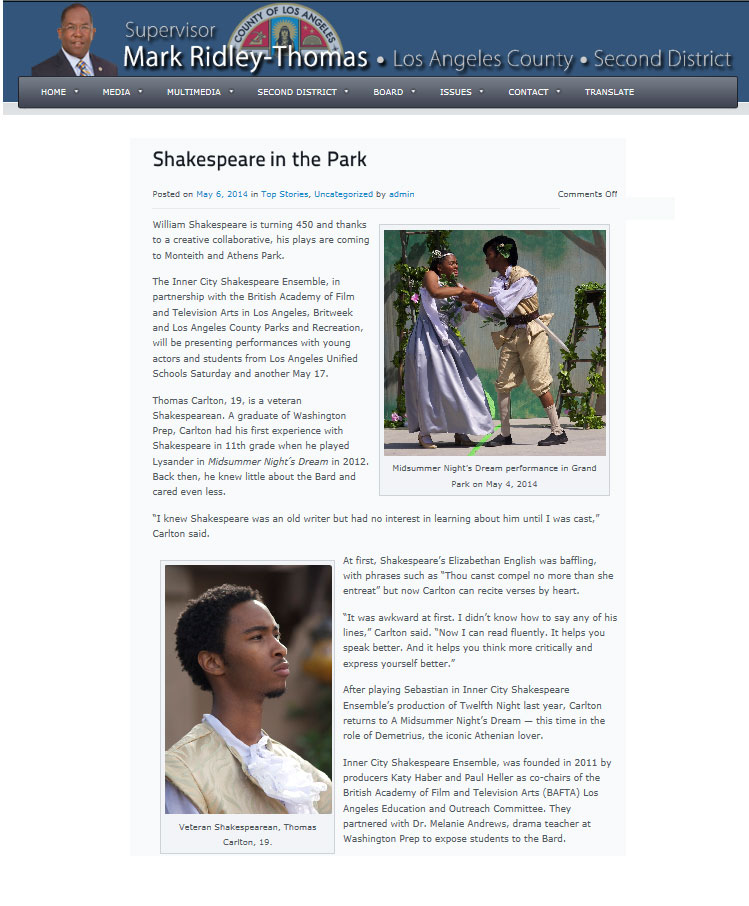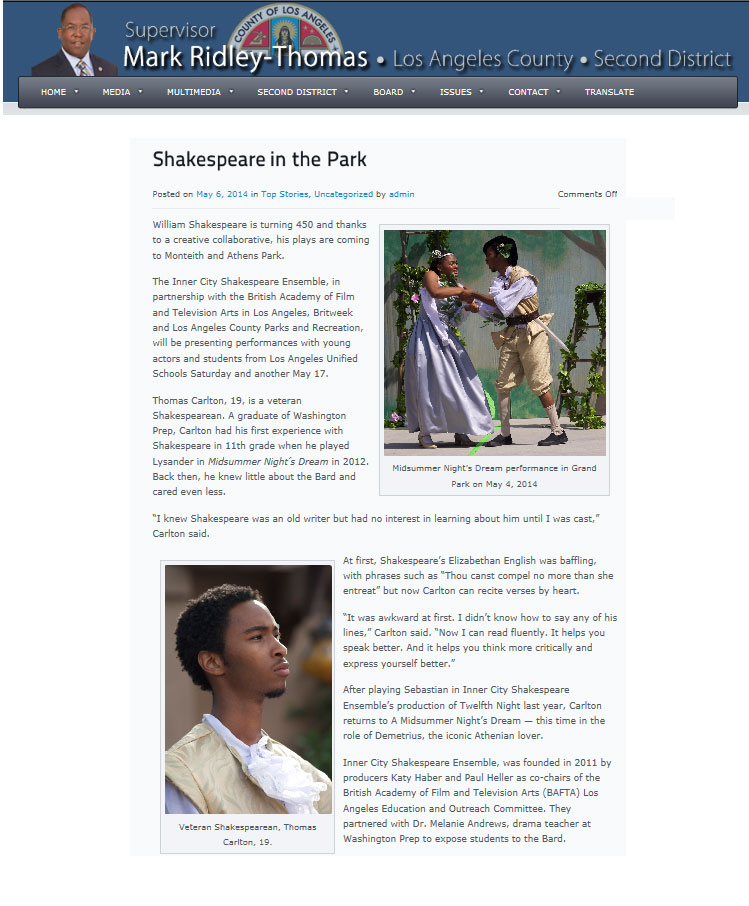 READ MORE AT:http://ridley-thomas.lacounty.gov/index.php/shakespeare-in-the-park/
---
The ICSE is proud to announce that it has broadened its horizons and  cast an incredible ensemble of talented youth from more than a dozen schools within the LAUSD.  The program continues its collaboration with industry professionals from around the world, mentoring  students with their understanding of Shakespeare as well as the actual performance process. These one-on-one relationships have enhanced academic motivation, personal development and created lifelong, enduring associations.
---
CHECK OUT THIS VIDEO ABOUT OUR PROGRAMS!

---
What Actors are Saying About Shakespeare
| | |
| --- | --- |
| Chiwetel Ejiofor from "WHY SHAKESPEARE?" by Larry Bridges | Michael York from "WHY SHAKESPEARE?" by Larry Bridges |
---