2015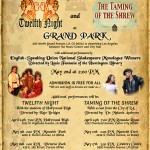 April 24th – May 24th, 2015  Spring Productions: TWELFTH NIGHT & TAMING OF THE SHREW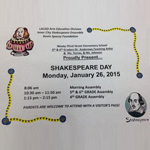 January 26th, 2015 (Monday) – Shakespeare Day
Proudly Presented by Ninety-Third Street Elementary School 5th & 6th Graders, Dr. Andrews, Teaching Assistant & Ms. Torres & Ms. Johnson.
2014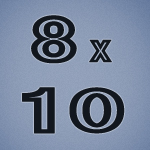 November 14th and 15th, 2014 (Friday & Saturday) 7:30pm
8×10. Ten minute play festival. 
The kids have chosen and directed their own plays! They will make you cry and laugh!
Los Angeles Shakespeare Center ~  1238 w. 1st Street. Los Angeles, CA 90026
Free!

June 14th, 2014 (Saturday) 2:00pm
Auction of Mike Chearney's Painting – Enchanted by a Midsummer Night's Dream, 2014, acrylic on canvas, 40 x 30 inches.
Michael Chearney writes… auctioning this painting of mine benefiting the INNER CITY SHAKESPEARE ENSEMBLE. My friend Katy Haber is a tireless champion of the arts and artists. Her special love is bringing art and its magic to children. Her support of the Inner City Shakespeare Ensemble and their production of A MidSummer Night's Dream, directed by Dr. Melanie Andrews, featuring young LAUSD talent this Spring, was and is deeply moving for me. I attended their performance in Grand Park and it was wonderful. With incredible production and costumes by Emmy winning Birgit Muller. This was and is living theatre.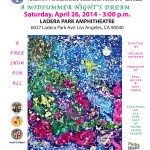 April 26th, 2014 (Saturday)  3:00 pm
Performance of A MIDSUMMER NIGHT'S DREAM at  LADERA PARK AMPHITHEATRE
6027 Ladera Park Avenue, Los Angeles, CA 90056 (street Parking)
Addtional Parking at Park Ladera Senior Center 4750 62nd Street, LA CA 90056 and on street.

May 3rd, 2014 (Saturday)
BRITWEEK 3RD STREET PROMENADE, Santa Monica.  2.00 pm -5.00 pm  (Strolling scenes, and stage performance)
www.britweek.org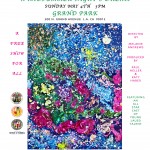 May 4th, 2014 (Sunday) 3.00 pm
Performance of  A MIDSUMMER NIGHT'S DREAM at GRAND PARK
200 N. Grand Ave, Los Angeles, CA 90012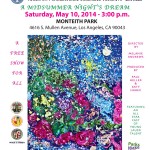 May 10th, 2014 (Saturday) 3:00pm
Performance of A MIDSUMMER NIGHT'S DREAM at MONTEITH PARK
4616 S. Mullen Ave, Los Angeles, CA 90043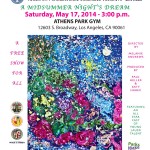 May 17th, 2014 (Saturday)  3:00 pm
Performance of A MIDSUMMER NIGHT'S DREAM at ATHENS PARK
12603 Broadway, Los Angeles, CA 90061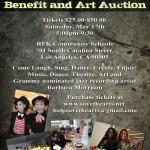 May 17th, 2014 (Saturday) 7:30 pm
SAVE THE ARTS AT RFK COMMUNITY SCHOOLS AT COCOANUT GROVE,
701 S. Catalina Street, LA CA 90005 (Performance Puck Oberon and Titania and Fairies)