Inner City Shakespeare
Productions
Romeo and Juliet, Midsummer Night's Dream, Twelfth Night
Over the past three years, The Inner City Shakespeare Ensemble has engaged students in the appreciation of the wit and wisdom of "The Bard", enriching their lives  with productions at George Washington Prep High School  of
Romeo and Juliet
and
A Midsummer Night's Dream
.  In 2013 gifted students from George Washington Prep High School & Los Angeles High School presented
Twelfth Night
,   Our 2013 season culminated in a joint production with both schools  at the FigAt7th Festival on July 27th, sponsored by Arts Brookfield.
---
Inner City Shakespeare Ensemble was recently featured
on County of Los Angeles Supervisor Mark Ridley-Thomas' website: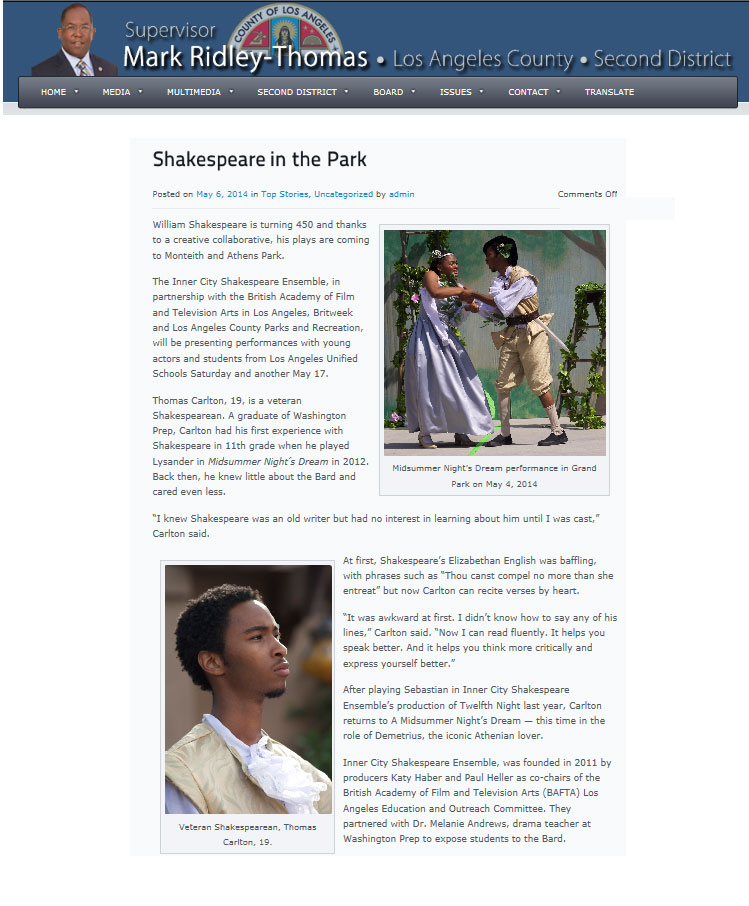 READ MORE AT:http://ridley-thomas.lacounty.gov/index.php/shakespeare-in-the-park/
---
In the Spring of 2014, in celebration of William Shakespeare's 450th birthday, The Inner City Shakespeare Ensemble in partnership with, LA County Parks and Recreation and the LAUSD presented a production of A Midsummer Night's Dream under the direction of Artistic Director Dr. Melanie Andrews.
The ICSE is proud to announce that this year it has broadened its horizons and  cast an incredible ensemble of talented youth from more than a dozen schools within the LAUSD. The ICSE continues its collaboration with industry professionals from around the world, mentoring  students with their understanding of Shakespeare as well as the actual performance process. These one-on-one relationships have enhanced academic motivation, personal development and created lifelong, enduring associations.
Our Shakespeare Family birthday celebration included free performances of A MIDSUMMER NIGHT'S DREAM at Ladera, Monteith, Athens, Grand Parks as well as wonderful participation in a few BritWeek Events!
(Please check our Show Dates page and/ or Calendar section for more information)
---
What Actors are Saying About Shakespeare
Chiwetel Ejiofor
from "WHY SHAKESPEARE?"
by Larry Bridges

Michael York
from "WHY SHAKESPEARE?"
by Larry Bridges
---
Congratulations to ICSE alumnae!
| | |
| --- | --- |
| | |
| | |
| Thomas Carlton cast as Hamlet | Alea Render cast as Orphelia |
in
LA Shakespeare Center of Los Angeles'
upcoming production of HAMLET
---
Support the Inner City Shakespeare Ensemble!
If you would like to contribute and get involved in our productions
your tax deductible donations would be also be most gratefully received.
---