INNERCITY SHAKESPEARE ENSEMBLE
The Innercity Shakespeare Ensemble brings at-risk students into the world of theatre, using Shakespeare's ageless language and eloquent dramatic insight into people and events. Founded in 2010, this innovative and unique program has brought together hundreds of diverse students from South Central Los Angeles: one of the nation's most economically challenged areas. Barriers of ethnicities are erased as our Ensemble explores the 17th Century world of the Bard, resulting in a life-changing impact that can be measured far beyond the scope of production and theatrical performance.
In recent years the ensembles formed through the production of numerous Shakespearean plays have gone on to explore a variety of other inspirational works created by some more modern authors, each one with palpable meaning and message to the players and the audiences alike.
Under Artistic Director, Dr. Melanie Curtis-Andrews, with mentors and industry professionals, hundreds of talented young people joyfully discover their special talents and perform with style before audiences reaching more than 5000 people. In a community blighted by violence, ICSE lives are changed, gang ties are cut. More than 85% of the student performers are in college, carrying their accomplishment far beyond the 4th wall of the theatre into a lasting impact for the future.
Programs begin with casting audition dates around LA, reaching out to disadvantaged students from Elementary Schools, High Schools and the youth acting community within the LAUSD school district. Once cast, rehearsals and theatrical education begins.
Over the past ten years, The Innercity Shakespeare Ensemble has engaged students in the appreciation of the wit and wisdom of "The Bard", enriching their lives with numerous exciting productions.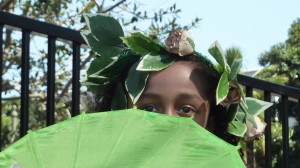 ---
Summer 2019
Positive Secrets – AIDS and the Hip Hop Generation
True stories about HIV and AIDS through monologues and dance produced in 2019
Positive Secrets was written in response to the death of one of our company from AIDS, at the age of 16. The piece uses original music, hip hop dance and monologues to tell stories gleaned from interviews with local youth who are living with HIV and AIDS. Even though it deals with a dark subject, it is presented with humor and breathtaking dances that reflect the feelings of the stories told. It is a unique piece that was created to save lives.
Below is a short video featuring highlights of Positive Secrets – AIDS and the Hip Hop Generation
These young Shakespearean actors used their talents to share the message, with the Hip Hop Generation :: AIDS is still deadly, but it's preventable and treatable. Featured at LA fringe Festival Summer 2019.
READ MORE
---
2019
IAGO : A Film Based on Othello
IAGO has been selected by over 10 film festivals and won the top prize at
The LA Shorts Festival July 2019.
IAGO opening at the Pan African Film Festival February 23, 2019
---
2018
Comedy of Errors
---
March 2019
Oregon Documentary Film Festival in Portland
Our documentary, Inner City Dreams, won top prize, the "Most Inspirational Film Award", at Oregon Documentary Film Festival in Portland 2019
---
February 2018
For Colored Girls
Stage production based on Ntozake Shange's 1975 original choreopoem 'for colored girls who have considered suicide / when the rainbow is enuf'.
---
Youth for Human Rights International – North American Summit 2018
We were honored to receive the Presidential Medal for Arts and Volunteerism for our work
---
Spring 2016
Othello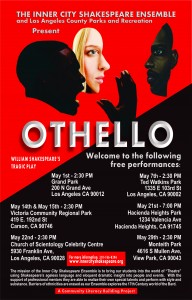 ---
Spring 2015
| | |
| --- | --- |
| Taming of the Shrew 2015 | Twelfth Night 2015 |
| | |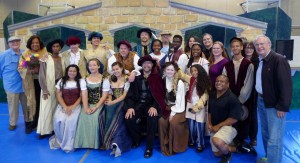 "Taming of the Shrew" in Culver City Comedia Style / In The Round – for advanced students
April 24th in the Rotunda Room in the Veteran's Memorial Building
May 2nd Grand Park Gala
May 10th Monteith Park
May 17th Celebrity Centre
May 24th Ted Watkins Park
"Twelfth Night" at Hollywood High
April 24th SCHOOL PRODUCTION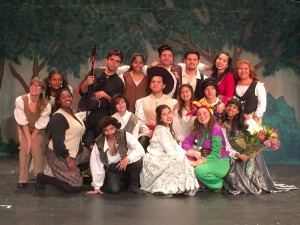 May 2nd Grand Park Gala
May 9th Moneith Park
May 16 Victoria Park
May 23rd Ted Watkins Park


Free Performances at City & County Parks May 2nd – 24th 2015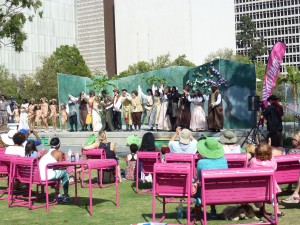 ---
Fall 2014
"8 by 10" ~ Eight One Act Plays directed by Ensemble Members November 14 and 15 at the Los Angeles Shakespeare Center. 7:30 PM. Free!
"Shakespeare for Kids" ~ The Children's Shakespeare Festival at Two Elementary Schools Annalee Public School in Carson and 93rd Street Elementary School in Los Angeles. ~ SEE a documentary film about this program : "Shakespeare at Full S.T.E.A.M."

---
Spring 2014
A Midsummer Night's Dream
In the Spring of 2014, in celebration of William Shakespeare's 450th birthday, The Inner City Shakespeare Ensemble in partnership with, LA County Parks and Recreation and the LAUSD presented a production of A Midsummer Night's Dream under the direction of Artistic Director Dr. Melanie Curtis-Andrews. Our Shakespeare Family birthday celebration included free performances at Ladera, Monteith, Athens, Grand Parks as well as wonderful participation in a few BritWeek Events!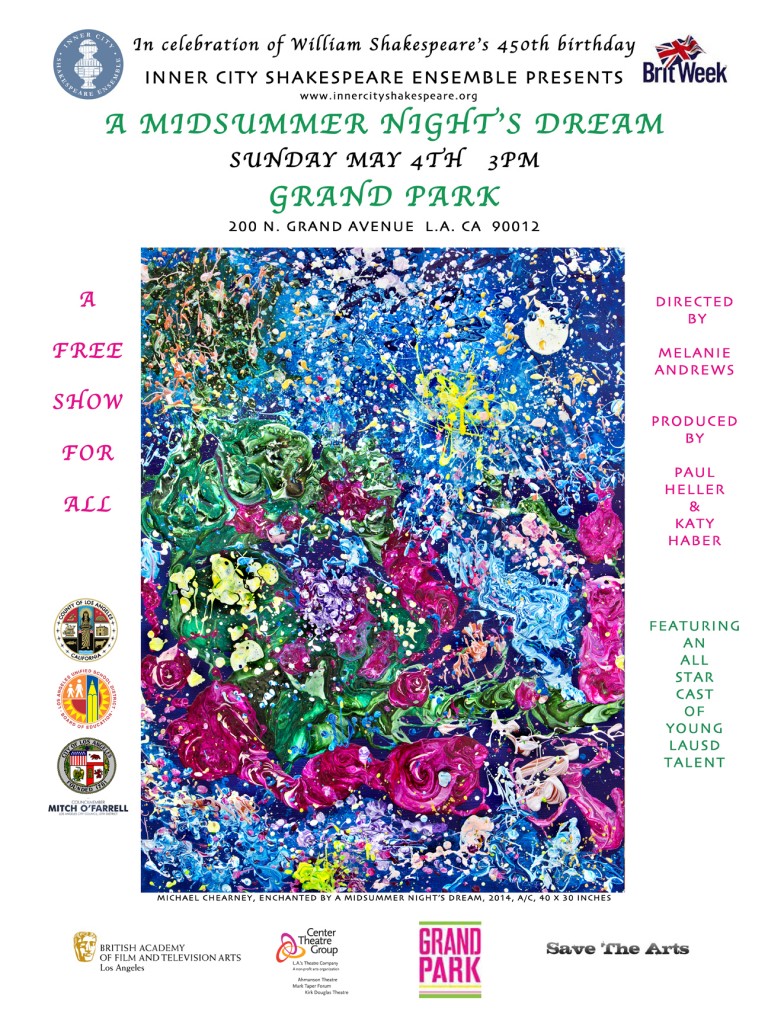 ---
2013
Twelfth Night
Gifted students from George Washington Prep High School & Los Angeles High School presented Twelfth Night.
Our 2013 season culminated in a joint production with both schools at the FigAt7th Festival on July 27th, sponsored by Arts Brookfield.
---
2012
A Midsummer Night's Dream
In 2012 A Midsummer Night's Dream was was Performed by the Students of George Washington Preparatory High School, Music and Performing Arts Magnet Ladera Heights Park June 9th and 10th.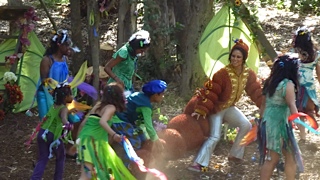 ---
2011
Romeo and Juliet
In 2011 Romeo and Juliet was performed by the Students of George Washington Preparatory High School, Music and Performing Arts Magnet at Ladera Heights Park Amphitheater May 28th and 29th, 2011
With the support and mentorship of BAFTA Los Angeles and its industry professionals membership, George Washington Prep School presented two performances of Shakespeare's Romeo and Juliet.
The cast of Romeo and Juliet, Curtis Smith, A'Donus Gillett and Kaylin Bilal and Dr. Melanie Curtis-Andrews invited to attend special screening of "The Tempest" and meet with Dame Helen Mirren and director Julie Taymor. June 16th 2011.
---
Inner City Shakespeare Ensemble featured on County of Los Angeles Supervisor Mark Ridley-Thomas' website: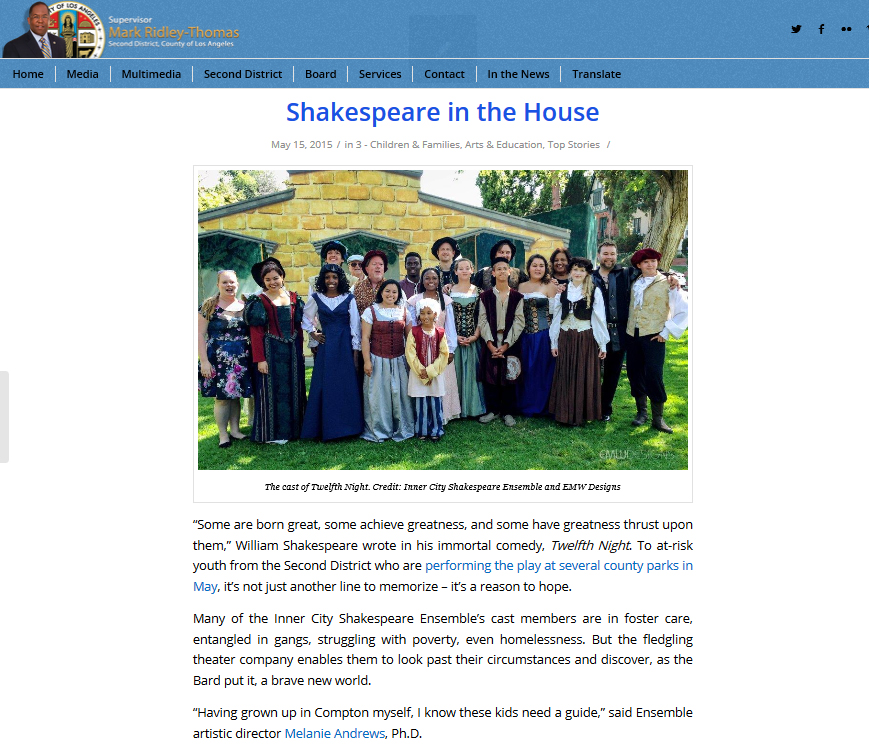 READ MORE AT http://ridley-thomas.lacounty.gov/index.php/inner-city-shakespeare/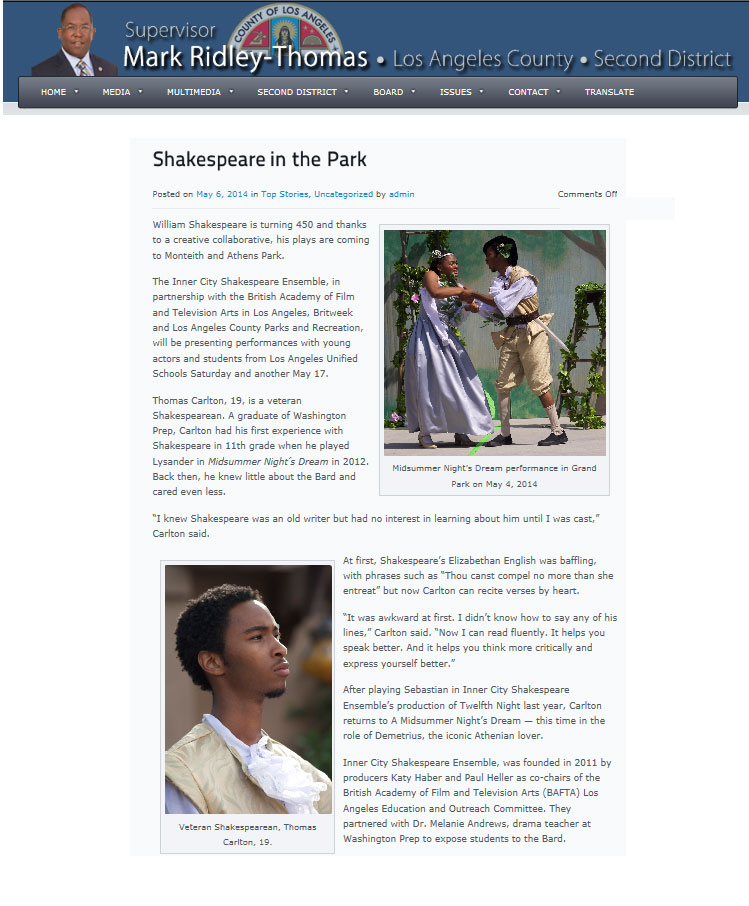 READ MORE AT:http://ridley-thomas.lacounty.gov/index.php/shakespeare-in-the-park/
---
CHECK OUT THIS VIDEO ABOUT OUR PROGRAMS!

---
What Actors are Saying About Shakespeare
| | |
| --- | --- |
| Chiwetel Ejiofor from "WHY SHAKESPEARE?" by Larry Bridges | Michael York from "WHY SHAKESPEARE?" by Larry Bridges |
---